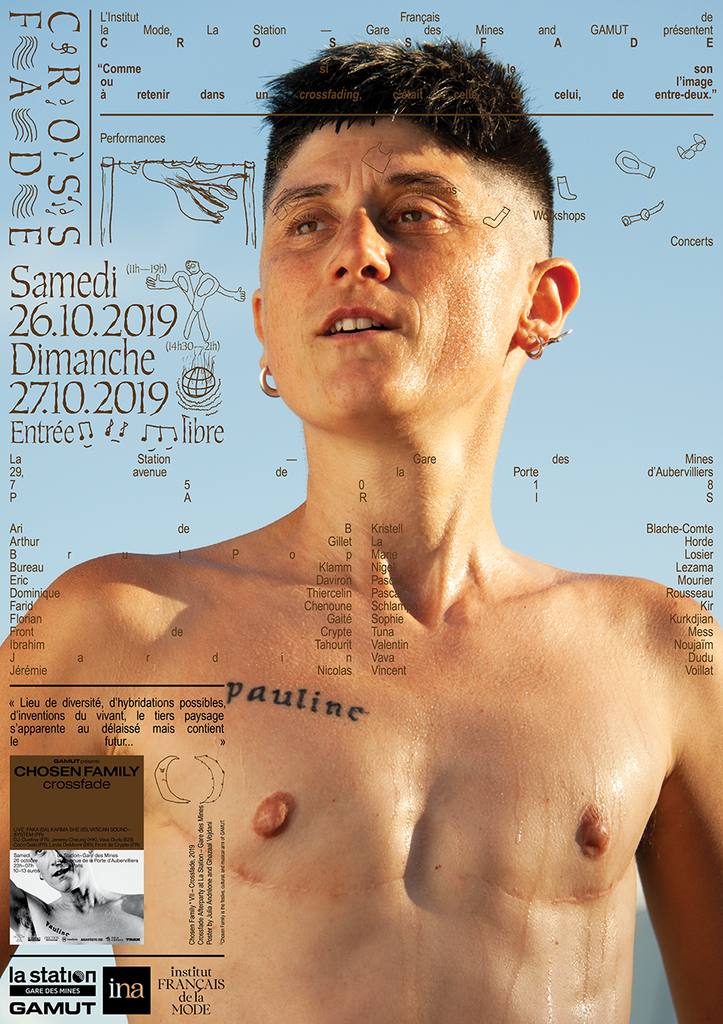 The Institut Français de la Mode presents Crossfade, a cultural weekend of encounters around music and fashion created in collaboration with the GAMUT collective and the team at La Station - Gare des Mines.
Crossfading: the fade in and out in VF, is the moment of transition between two audio or video tracks, these few seconds when two worlds mix, replace, overlap and meet.
Far from being an academic seminar, the event will combine performances, screenings, round tables, workshops... You can take part in a "padding" workshop supervised by drag-queens, attend a discussion between an anthropologist and a hip-hop specialist, watch short queer culture films, or learn how to make your own ideal casting... 
It is about creating an ephemeral scene, open to alternative and emerging cultures. Exploring the relationship between fashion and music, away from the mainstream and the beaten track. Giving a voice to the artists and creators themselves, taking into account their extraordinary variety and sometimes unexpected proposals. 
All this in the north of Paris, in a place that reflects and shelters these underground cultures: La Station - Gare des Mines.
Crossfade brings together artists, musicians, designers, professionals and lovers of fashion and music, ready to meet the creative students of the Institut Français de la Mode.
Crossfade's interventions outline three theme, three political and social concerns, and three questions that cut across contemporary fashion:
— Fashion, minorities and representations: how to show the body? 
— The dream factory: fashion, a pop capitalism?
— Is clothing, a vector of information, symbols and obsessions, a talisman?