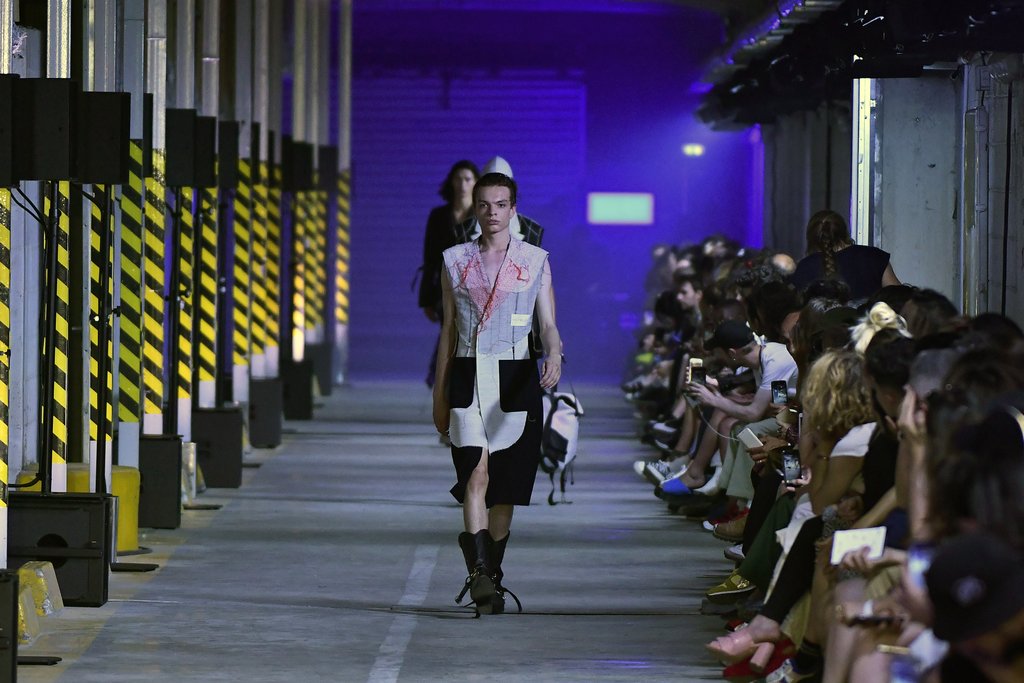 After a first runway show at La Station — Gare des Mines in September 2018, GAMUT presents its second collection during Paris Fashion Week (Men's). While the first GAMUT collection aimed to lay down the foundation of a shared vocabulary, the second is a free continuation of this collective work with a nod to the traditional codes of clothing and accessories.
GAMUT collaborated with Messalina Mescalina, a Lyon-based drag queen whose gender- twisting performance work and highly artistic approach inspired the group to focus on doubles, duality and the baring of the interior. Moreover, the muse of the collection—Messalina Mescalina — becomes a photographic pattern for the jersey pieces.
GAMUT pursues its mix of genres by taking over old-fashioned couture codes, opening un- expected windows on the body and develop- ing an open and unisex wardrobe. The chosen techniques and finishes focus on ultra-artisanal suits and technical pieces designed in an industrial manner. GAMUT places great importance on textile ennobling — embroidery, silk- screening, silk painting — while developing its knitwear line, interpreted in summer creations. Alternating rigorous cuts and organic shapes, the SS20 collection is the result of an experimental back-and-forth between the members of the GAMUT collective.
The event will be followed by an after-show, orchestrated by Chosen Family, the festive, musical and event-planning branch of the GAMUT collective, at La Station — Gare des Mines.
The presentation of the GAMUT SS20 collection is made possible by the support of the Autrement PR press office and the Dcontract agency.
GAMUT would also like to thank Joe Chasson, Samuel Bardaji, Serdane Messamet, Ghazaal Vojdani, Clément Pélisson, Camille Thirion and everyone who helped prepare the event.