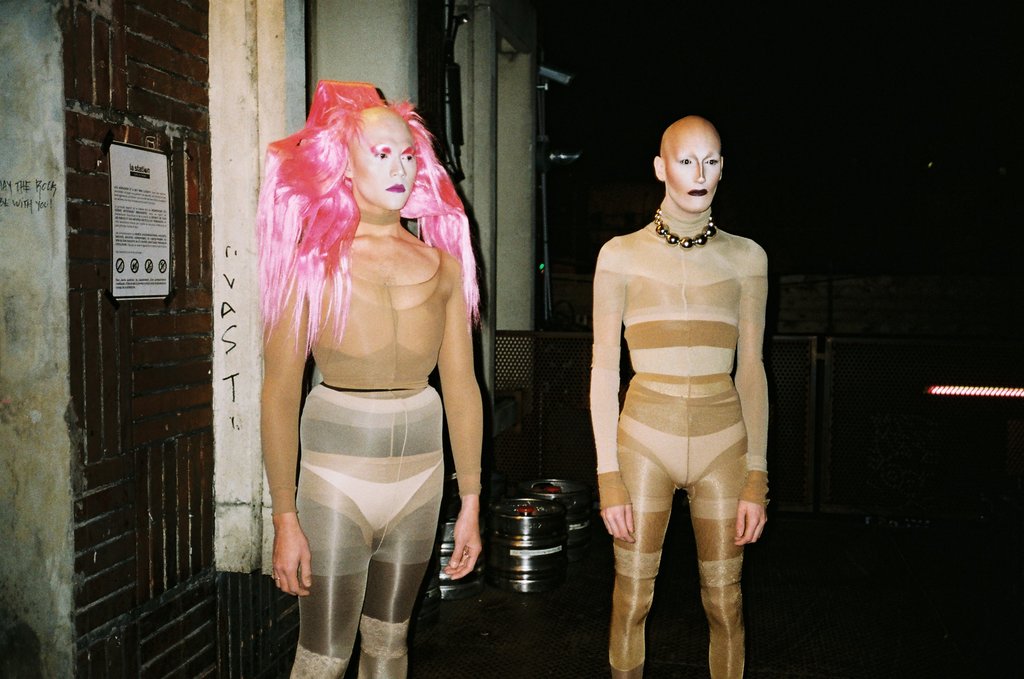 Cutting, splitting, dissecting, extracting, recomposing, reconstructing: for its third collection, GAMUT accentuates its work on upcycling. At the core of its creative method since the birth of the collective in 2018, this sustainable approach becomes a pretext for experimen- tation. GAMUT extends its research on tailoring by breaking down second-hand suits to cut new garments, sometimes following an in- dustrial method, reproducible on a large scale, sometimes a much more artisanal process that gives birth to unique pieces.
Defending a responsible vision of its ecosystem, GAMUT offers, in addition to its upcycled line, a realistic and accessible wardrobe of essentials, composed of unisex pieces, made in France and cut from materials selected for their low ecological footprint. GAMUT builds a winter wardrobe, tinted with «biker» cuts that subtly infuse the col- lection. Duffle coats, knitted sweaters and dresses, overshirts, shirts, trousers and skirts sketch out a line of iconic GAMUT pieces, while the season's headwear, a deestalker, aims to conceal the face in the age of facial recognition, while keeping it warm.
Saturday, January 18 at La Station - Gare des Mines — ahead of a clubbing party organized by Chosen Family, the festive and mu- sical arm of the collective — GAMUT staged a presentation of its Autumn-Winter 2020.21 collection. Breaking with the show tradition, GAMUT gave carte blanche to three performers to reinterpret the spirit of the collection.
Hélène Mourrier, a visual artist, feminist activist and performer, transposed two performances in the context of La Station, at the crossroads of emerging and alternative cultures, where GAMUT pre- sented its first collection, in September 2018. Schlampa Kir von Fick- dich and Tuna Mess, two drag sisters who thrive in GAMUT's direct environment, created a special performance for the presentation. Two avant-garde fashion creatures, they manipulated, appropriated, mistreated and recycled in their own way the prototypes of the pre- vious GAMUT collections.
The three performances, which took over the interior and exterior spaces of La Station, were broadcasted live on a giant screen ins- talled on the outdoor stage, alongside the collection itself. Guests were able to discover the collection up close, touch and try on the clothes.
The event was sponsored by Carlsberg and Skoll beers, and made possible by the support of Autrement PR (press agency) and the DContract (event agency).